Direkt vom Media Launch für das neue BMW M6 Cabrio F12, bei dem sich einige Journalisten einen ersten Fahreindruck verschaffen konnten, erreichen uns zahlreiche neue Bilder zum aktuell stärksten Cabrio der BMW Group. Wie schon im Fall der letzten Bilder wird das Cabrio auch hier in der Präsentationsfarbe San Marino Blau gezeigt, die exklusiv manchen Modellen der BMW M GmbH vorbehalten ist und besonders unter Sonneneinstrahlung sehr intensiv und kräftig wirkt.
Das BMW M6 Cabrio wird genau wie das M6 Coupé und die BMW M5 Limousine von einem 4,4 Liter großen V8-Biturbo angetrieben, der 560 PS leistet und beim International Engine of the Year Award 2012 als zweitbester Motor in der Klasse mit mehr als vier Liter Hubraum ausgezeichnet wurde.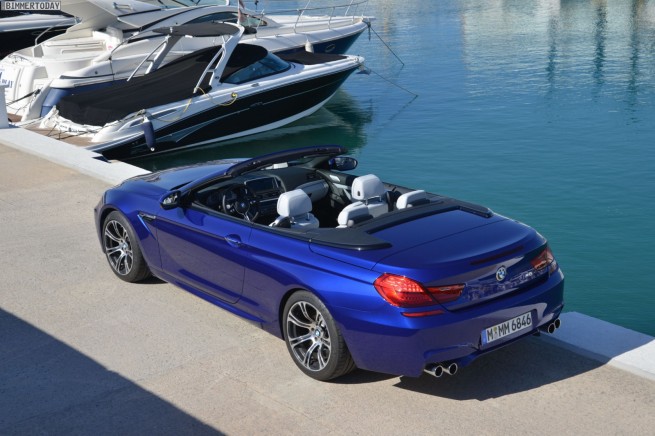 In Kombination mit dem serienmäßigem siebenstufigen Doppelkupplungsgetriebe ermöglicht der V8 Beschleunigungswerte von 4,3 auf 100 und 13,1 auf 200 km/h. Die Höchstgeschwindigkeit wird normalerweise auf 250 km/h limitiert, in Kombination mit einem Fahrertraining ist im Rahmen des M Drivers Package aber auch eine Anhebung auf 305 km/h möglich.